JATAN Endorsed Palm Oil to Students in Japan Through Learning Media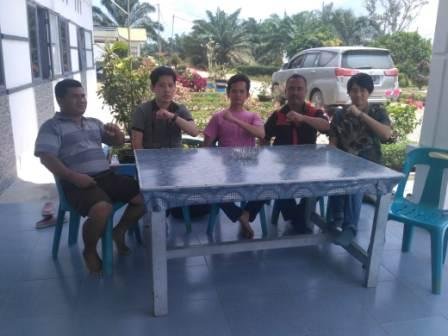 JATAN (Japan Tropical Forest Action Network) conducted field visit to palm oil plantation company and the grassroot of SERBUNDO in subsidiary company under WILMAR Group (PT. Daya Labuan Indah) in Labuhanbatu Regency. This company was wellknowed as role model because the openess for visitors from Institution either national or international to visit site and respect of sustainable oil palm. This visit conducted on March 7-8, 2019 and followed two delegations from JATAN Japan, namely; one intrepreter and another was photographer and accompanied from OPPUK one person as well.
The purpose of this JATAN team visit was to create the learning media for students either for school or university. Japan people particularly students still did not know the condition from palm oil plantation started from seedling, upkeep, harvesting and processing to raw oil palm and furthermore become raw material exported to company either national or multinational company to make products that known by people, such as; snacks, soap, cosmetics, natural gasoline, etc. From the visit, Japan's team was not put the difficult issues for company or the intention to be a campaign material. This visit particularly to create a learning media that endorsed palm oil to Japan society in particular students.
On March 7, 2019 a team from Japan visited SERBUNDO (Independen Plantation Trade Union) at SERBUNDO's office, where that office is one of the facility that provided by the company. There were 15 executive committe members and members of SERBUNDO from various division in Palm Plantation had come on the meeting and short discussion. The Leader of SERBUNDO in company level at PT. DLI facilitating the interview session that conducted by Japan team to labor and SERBUNDO members as well about the daily life activities from started work in early morning until back home. This dialogue has been sucessful because the presence of interpreter. Questions or explaination in Japan language could not be a problem to understood by the labors becaused of translated immediately.
On the second day, a team consultated with company management for asking permitt to conduct a reportinga and ordinary visit in plantation. After getting permit from the company itelf and accompanied from one staff of the plantation office and also the leader of SERBUNDO in PT.DLI, team went to take photo of harvesting worker while they started worked from collecting fruits, collecting bunchs and driving fresh fruit bunch (TBS) to neared road to collect to truck and brought to Palm Oil Mill. The team also took some photos of workers while they did spraying started from filling the gallon with pesticide and applied to each of palm oil trees. Furthermore, team guidd by one company staff to visiting some facilities of the company that built for labors and relatives, such as; School building, Clinic, housing, Childer Care, Church, Mosque, etc. However, on that oppurtinity, team is prohibitted to entering the Palm Oil Mill because there was no permit at the time from the company in Headquater.
After getting enough material, the team asked for leave for the company management and SERBUNDO. Then, it is continued to interviewing local peasent in Rantau Parapat to took some informations from different perspectives foor learning media material. Field visit, reporting, and interview did well and the team promised to conduct another visit to enrich the information of palm oil.