Chairman of SERBUNDO, Herwin Nasution Inagurated Five Basis Leader of SERBUNDO at Wilmar Group Plantation in Labuhan Batu Raya District
Five Basis Leader of SERBUNDO (Serikat Buruh Perkebunan Indonesia) such as Basis Leader for PT. Daya Labuhan Indah, PT. Milano Sei Daun, PT. Milano Merbau, PT. Milano Cabang Dua dan PT. Milano Batang Saponggol has inagurated at the same time in Sei Daun Plantation owned by Wilmar Group at 13th August of 2017. The inauguration was done by support from Wilmar Group company in Region I Sumatera and cooperation with District Leader of SERBUNDO in Labuhan Batu Selatan, Central Board of SERBUNDO, head's representative of Wilmar Group in Region I Sumatera, Head of Manpower Agency in District Labuhan Batu Selatan and laborers from five Wilmar plantations  in Labuhan Batu Raya region with participants reaching approximately 200 people.
The inauguration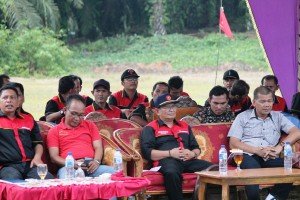 started at 10.30 am with opening ceremony by master of ceremony then the agenda is opening speech from Natal Sidabutar, Secretary of SERBUNDO said that the inauguration can be accomplished by the support of Basis Leader and members of five plantations and support from Wilmar Group Region I management. Natal also expressed his gratitude to all parties who have worked hard for preparing this event.  Head Management of Wilmar Region I Sumatera Hadia Mukti Lubis on his speech said that laborers and management need each other so the cooperation that has been established between the company and SERBUNDO can be more improved. Laborers through leader of union must improve the Human Resourchers to manage well the members to improve the productivity of the company. Head of Manpower agency of District Labuhan Batu Selatan, Sutrisno, SH on his speech said that between laborers and employment must synergize each other, not just stronger laborers, but also stronger employment, it is useless if there is strong labor beside the employment can't do anything so the laborers and employment must life together. The existance of SERBUNDO in government of District Labuhan Batu Selatan has been recognized by involved the SERBUNDO's head of subsidiary council in Regional Wage Councils of District Labuhan Batu Selatan. This is one of successness in struggle of SERBUNDO even more has success to establish SERBUNDO basis in five plantations owned by Wilmar Group in Labuhan Batu Raya.
Chairman of SERBUNDO, Herwin Nasution on his speech said that the program of inauguration of  five Basis Leader of SERBUNDO in Wilmar Group plantation company in Labuhan Batu Raya is the organization's mandate in accordance with the Articles of Association and Bylaws of organization at once for increasing the better cooperation between SERBUNDO and Wilmar Group. One of the closer program is establishment of Collective Labor Agreement which will be negotiated on the end of this year. Therefore, the Basis Leader in five plantations must be comfirmed about the stewardship and increase the amout of members so everything can be included in the CBA negotiations.
After the opening speech, the event continued by inauguration that directly lead by Chairman of SERBUNDO Herwin Nasution and assisted by Suhib Nurido in duty for taking an oath/commitment. Eagerly, the five Basis Leader expressed their willingness to develop the SERBUNDO and the oath/commitment witnessed by all the inaugurators.
The event was then continued with a speech from the newly elected Basis Leader which was started from the Basis Leader of PT. Daya Labuhan Indah, Basis Leader of PT. Milano Merbau, Basis Leader of Milano Sei Daun and the end of speech from the Basis Leader of Head of subsidiary council of SERBUNDO in District Labuhanbatu Selatan. The inauguration ceremony was ended by the chanting prayers and entertainment.
A strong labor union, independent and democratic can be realized by education, organizing or advocacy and handling cases that occur. This program of Inauguration of SERBUNDO Basis Leader in palm oil plantation company owned by Wilmar Group in Labuhan Batu Raya also expected to increase the members's self confident, especially Basis Leader in execute the function of the organization in achieve better workers' welfare.
Congratulations for The Inauguration,
Live Labor!