Belgian Government Representatives Visits Wilmar Group Plantation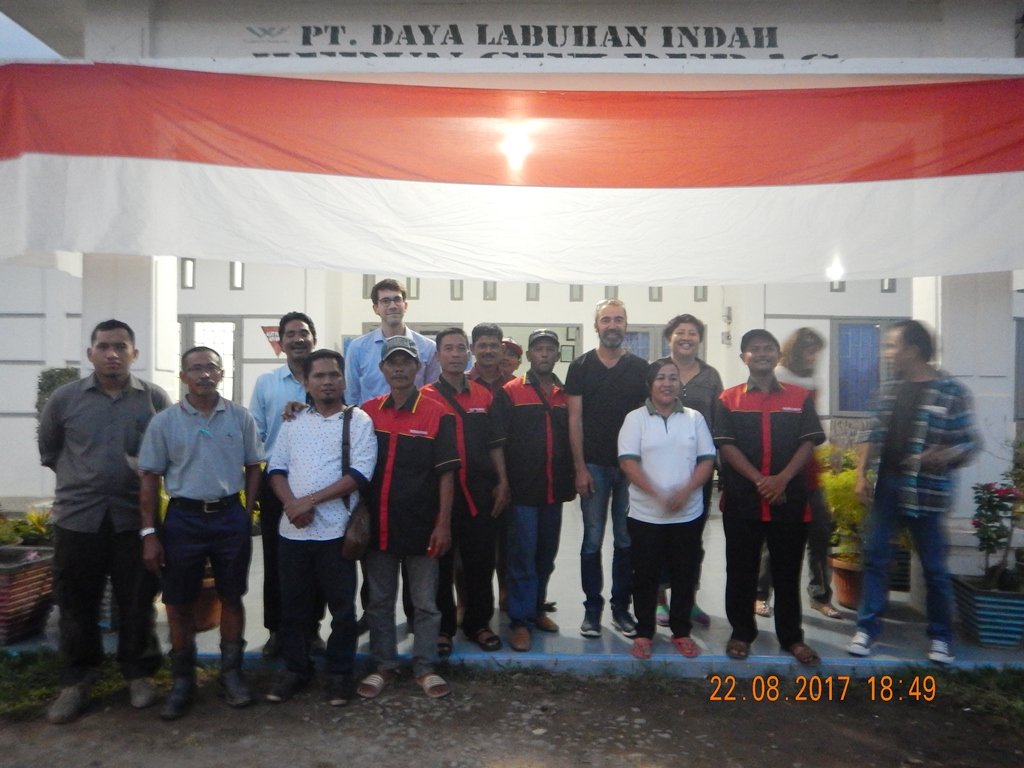 The entourage of Belgian Ambassadaor to Indonesia along with the Belgian Foreign Ministry and NGO 11.11.11 with OPPUK visited Wilmar Group plantation PT. Daya Labuhan Indah (DLI) in Negeri Lama Sub-district of Labuhan Batu District (22/8/2017). The purpose of the visit to know the progress and changes that happen in palm oil plantation owned by Wilmar who was campaigned by several international organizations against the poor treatment of workers at Wilmar plantation PT. Daya Labuhan Indah some time ago.
The attendees included Guillaume Goessens and Maria Lemmelijn form Belgian embassy, Kris Vanslambrouck from NGO 11.11.11, Indah from Sawit Watch and Renata Sandhi from OPPUK. On the visits that also attended by Wilmar representative, the leader of Serikat Buruh Perkebunan Indonesia (SERBUNDO) for PT. Daya Labuhan Indah, Heryanto explain that there are changes in the company. Included promotion workers from casual worker to permanent workers, wage is appropriate to the minimum wage of work in palm oil plantation sector, the rice subsidy given by the company outside of the received wage, and personal protection equipment and work equipment all been provided by the company.
Besides, the construction of workers' houses is also given, previously the condition of housing of workers are still wooden buildings then now at the stage of development which will be made as permanent, in labor settlements have also been provided by clean water, the company also provides BPJS for all workers, health facilities such as presence of clinic in the plantation provided with doctors and nurses to serve for labor healthy.
Wilmar commited to make changes in plantation area of PT. DLI and cooperation with the government for education sector, Wilmar Group provide 7 units of bus for help the transportation for laborers children going to school and the company will build a school with International standard owned by government and adding computer facilities.
While Abdi, HRD of PT. Daya Labuhan Indah said that everything has done by Wilmar by spend high cost for this improvements, has give positive impacts for the company such as increasing the company productivity where its motivate for higher labor performance to work, back-and-forth of labor in Wilmar's subsidiaries are decreasing. The company also opened for active communication with side of labor union especially SERBUNDO by doing routine dialogue once for 4 months. The company also ready to make dialogue with workers if necessary and the company supports the facilities of labor union by provide SERBUNDO's secretariat in the environment of company.
From the explanation of the workers and management of PT. DLI, the Belgian government representative was amazed by the changes that took place in the Wilmar Group company, one of the largest of palm oil plantation companies, and became a model to other large plantation companies. For that positive response, Kris Vanslambrouck from international organization 11.11.11 will publish that there has been a change in the Wilmar Group.